Photo courtesy of our partners Vanilla/Platform Aerospace
Considerations When Selecting a UAS Fleet Management Solution
By: Thomas Meyer
Manufacturers and Operators in our rapidly growing Unmanned Aircraft Systems (UAS) industry are learning early on that UAS Fleet Management is a critical element in effectively growing their business. In the absence of a centralized and unified UAS Fleet Management solution, keeping track of day-to-day operations, maintenance activities, aircraft configurations, and pilot and hardware certifications are cumbersome and time-consuming. A comprehensive and integrated fleet management solution needs to reduce the burden of everyday data capture and provide a method of effectively analyzing and forecasting all aspects of a company's fleet. With the right solution, companies can free up valuable resources to focus on what matters — safety, reliability, and growing their ROI. When you decide to move on from paper logs and spreadsheets that produce fragmented and decentralized data, we hope this guide will inform the transition.
For starters, a "one-size-fits-all" solution for every Use Case does not exist. Every operator's situation is different. If you are pursuing "expanded operational approvals" or if your fleet is growing fast and you have multiple crews in different locations, you should consider a dedicated solution that integrates operations, maintenance activities, and system health monitoring.
For Manufacturers, the implementation of an integrated fleet management solution that aligns (and can exchange data) with the software used by their customers/operators provides great benefits. These benefits include recording and analyzing testing data, configuration changes, and generating UAS and component reliability data to inform design upgrades. A shared solution between manufacturer and customer allows for a seamless string of data recording for aircraft and components starting from development and production, through customer delivery and field operations.
A Centralized System for Data Capture and UAS Fleet Management Reporting
A professional and comprehensive Fleet Management solution is a fully integrated and secure records management system that empowers users to grow their fleet with confidence. Core functionality includes the ability to track UAS, pilots, flight logs, certifications, and maintenance events. Company leadership time is a scarce resource, so a summary of the important fleet information should be consolidated into an easy-to-read dashboard that provides a single point of view for the entire operation.
Reporting capabilities should allow the user to drill into their data and cross-reference inputs from different sources, both automated and manual. Additional reports need to be generated for various stakeholders, highlighting efficiencies and economic outcomes as well as upcoming actions. This functionality goes beyond the common mission management solution currently offered by some providers that only pulls basic flight information from telemetry data to provide metrics on flights flown and "who flew what when." Most of these solutions lack the ability to monitor system health, maintenance events, or component and payload data.
Documenting Maintenance "Notes" versus Integrated Maintenance Events
Even the most basic quadcopter is a complex bundle of single-point failures that should be tracked with an integrated maintenance solution. Most mission management solutions provide a means to annotate maintenance events, but these are simply notes associated with a system and lack preventive maintenance reminders, required actions, upcoming recommended replacements/inspections, etc. These notes are "stand-alone" events that cannot be cross-referenced to operations or issues for deeper analysis. Even if "note-taking" solutions are currently adequate for your operation, it is recommended to evaluate and implement a comprehensive solution earlier rather than later. Most company leaders structure their company for growth into more complex higher-risk operations to provide improved profit margins and revenues. Adopting an integrated solution early in a company's growth allows you to expand your data set as you grow without switching solutions. For routine higher-risk operations and those that utilize larger and complex higher-risk systems, a comprehensive fleet management system is a hard and fast requirement.
Systems-of-Systems Approach to Reliability
Large-scale or complex operations with significant safety reporting requirements are better served by a comprehensive system that takes a system-of-systems approach to access reliability and managing operations and maintenance. A systems-of-systems (SoS) engineering approach evaluates the contribution of each sub-system (e.g., an individual component) and the corresponding effect on the reliability of the overall UAS. Expanded operational approvals (BVLOS, flight over people, etc.) and Type Certified (TC) UAS require a much higher level of reporting over traditional Part 107 operations. These reporting requirements range from UAS and operational data for waivers to detailed component tracking, serialization, and reliability data for TC applications.
Again, the alignment and commonality between operator and manufacturer provide major benefits. The FAA's streamlined TC process requires that the manufacturer document the reliability of each flight-critical part or assembly (including serial numbers) as part of the Durability and Reliability (D&R) testing to prove system safety (more on the TC process in the next blog). This level of required documentation is far beyond the capabilities of simplified "note-taking" mission management solutions. A comprehensive solution is needed that can correlate and reference D&R data within different elements of production and test flights to generate performance data for the FAA as part of the approval process.
Key ROI Metrics and Actionable Data
Monitoring the usage, performance, and reliability of a fleet is a key metric for accessing the fleet's Return on Investment (ROI). Critical data must be quickly accessible to stakeholders and easy to interpret. The full list of key metrics is extensive so for the purpose of this blog, a few are listed below:
Aircraft utilization data including mission types, hours and sorties flown, and issues encountered
Configuration management including serial numbers for those components that have them
Continued Airworthiness tracking (Up, Grounded, FCF required)
Reliability data including component hours, replacement, and failure rates
Tracking of Payload and Battery performance and issues encountered
Predictive maintenance including preventive maintenance schedules, maintenance requirements, quality inspections, and "gripes" (also called squawks)
Completed maintenance event documentation, labor, and service frequency for each system
Crew and system hours related to specific projects to inform performance and cost analysis
The bottom line is that spreadsheets and simplified mission management software solutions provide only snippets of information and not the overall picture. As mentioned earlier, these simplified tools work for some operations, but they fall far short for more complex operations and for manufacturers that must make informed airworthiness and design improvement decisions.
Looking ahead, now that you have all the data needed on your UAS fleet what do you do with it? Data is most beneficial when it contributes to an action or solution. Data presented, filtered, customized, and organized in a way that promotes action to be taken or solutions to be implemented is highly valuable.
The full list of actionable items is extensive, so for the purpose of this blog a partial list is included:
Clear and logical access to the data you need to make real-world operational go/no-go decisions
Fleet readiness status. These metrics are used by the military and airlines to evaluate their ability to conduct a mission or flight operation. UAS operators should require the same.
Flexibility to customize the amount of data tracked and the alerts received. This allows a company to expand their requirements and the use of the Fleet Management Software as they grow their operation or manufacturing capability. Actionable data needs to fit your specific needs and use cases.
Access to your data at all times. You cannot act on data you cannot access. Some providers require you to pay more to get access to your older data. It is your data so you should never lose access or be restricted from exporting all your data at any time.
Preventive Maintenance and Component replacement schedules and reminders. What actions are required and how do they affect my overall readiness?
Simplified Project and Asset management that helps stakeholders weigh fleet capacity vs. operational needs.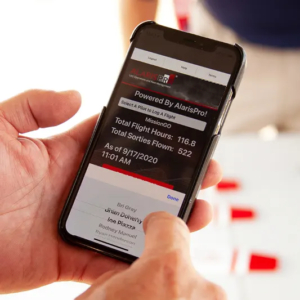 The AlarisPro mobile app provides crews in the field with a view of fleet operations and UAS Operators can log flights even works when cellular service may temporarily unavailable.
In summary, UAS companies require detailed Fleet Management as a means to reduce the burden of everyday data capture. Fleet Management requirements vary with each company, but leadership should consider adopting a solution they can grow with as they expand the frequency and complexity of their operation. Properly implemented, the right solution provides a method of effectively analyzing and forecasting all aspects of a company's fleet including operations, maintenance, and predictive analysis. Adding in connectivity to the OEM provides an even greater level of safety and reporting. Effective and detailed Fleet Management allows leadership to free up valuable resources to focus on what matters — safety, reliability and growing their ROI.
---
Discover the AlarisPro Fleet Management SaaS Platform
Still having trouble finding the right UAS fleet management platform? In many cases, it could be that you are looking at mission management platforms and not a true comprehensive solution. The fundamental difference and advantage of fleet management vs. mission management is the ability to maintain and assess system readiness in real-time and correlate and reference the data from all aspects of fleet operations, maintenance, and manufacturing.
AlarisPro is a unified cloud solution that documents all operational and maintenance elements of a UAS fleet, regardless of size or complexity. AlarisPro provides our Operator and Manufacturing clients with comprehensive fleet data in a simple, easily accessible cloud-based solution. Our clients can visualize the readiness of their fleet using the same systems-of-systems engineering approach used by large, manned operations. This approach includes everything from pre-flight, in-flight, post-flight AND maintenance activities to document reliability and inform go/no-go decisions. AlarisPro provides a level of fleet detail to large and small companies alike that is unmatched in the industry.
AlarisPro clients enjoy a comprehensive Fleet Management SaaS product that operates well beyond a simplified mission management solution. Committing to the AlarisPro fleet management solution, that is purpose-built for unmanned systems, results in a positive and powerful shift in the way a company can view their operation.
Additionally, our clients are an important part of a unique ecosystem that exponentially elevates the safety level of all UAS operations. Our team is very proud of what we do. We know that actions speak louder than words, so request a customized demo of the world's leading UAS fleet management software.
---
Share this entry