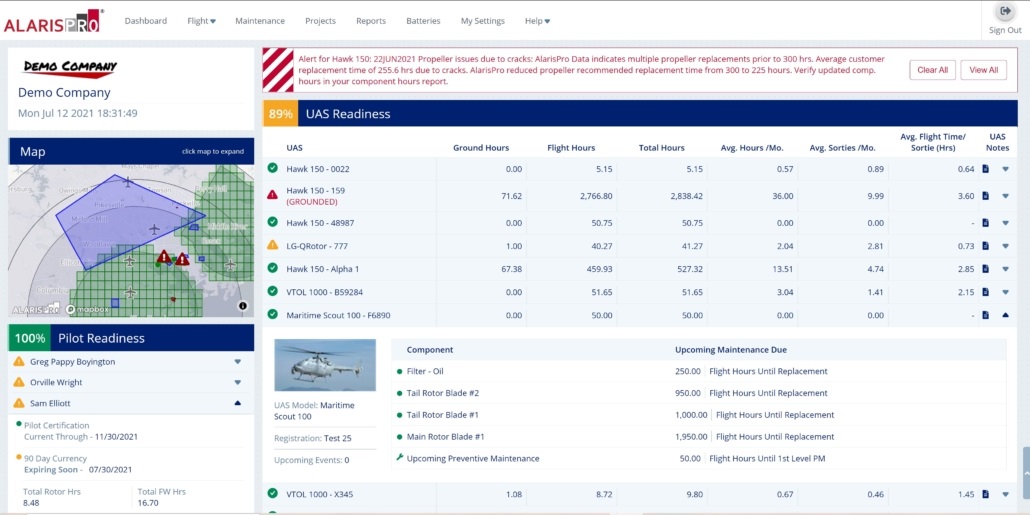 Navigating Expanded Operations with AlarisPro: Part 135 Operations
The Federal Aviation Administration (FAA) offers various aircraft operations certifications including 14 CFR Part 121 and Part 135, and operations flight rules under Part 91 and Part 107. While Part 107 allows limited cargo operations, a Part 135 Certificate is the only path forward for advanced unmanned cargo operations including flight over people and/or beyond visual line of sight (BVLOS). AlarisPro is proud to be a key enabler for our clients applying for a Part 135 certificate by using our fully integrated fleet management software to document all aspects of flight operations and maintenance activities.
What is a Part 135 certificate?
The FAA grants the authority to operate on-demand, unscheduled air service in the form of a Part 135 certificate. Historically, Part 135 air carrier certification has been associated with chartered cargo service, including helicopter operations. With the rapid growth of the UAS industry, the FAA has modified the Part 135 Certification policies to be scaled appropriately for unmanned aircraft. This has included the revision of some policies that do not apply to unmanned aircraft, e.g., the requirement to include flight manuals and certification documents onboard the aircraft.
The 5 Phases of Part 135 Certification:
Before applying for a Part 135 certificate, operators should carefully document the scope of operations they intend to conduct. All applications must be submitted to the local Flight Standards District Office (search for your local office here).
The application process is an involved process that includes 5 distinct phases that are outlined by the FAA. The phases are as follows:
Phase 1: Pre-Application: During this phase, applicants will request access to the FAA Safety Assurance System (SAS) External Portal.
Phase 2: Formal Application: The formal application stage requires submission of multiple documents, including company manuals, training curricula, management resumes, and SAS Element Design Assessment Tools.
Phase 3: Design Assessment: This phase is where the applicant's manuals and other documents are reviewed in-depth for compliance and conformity.
Phase 4: Performance Assessment: During phase 4, the certification team ensures that procedures and programs for training and performance are effective.
Phase 5: Administrative Functions: This last phase is where the FAA will issue the certificate and the operations specifications to the applicant.
AlarisPro is a key enabler to achieving Part 135 Operations
Meeting the rigorous criteria for Part 135 operations can be onerous, but the AlarisPro fleet management SaaS platform is designed to empower operators to overcome this challenge. AlarisPro's software solution enables compliance with the FAA's maintenance recordkeeping requirement under a Continuing Analysis and Surveillance System (CASS) for Part 135 operations. AlarisPro's platform is a fully integrated solution that documents all aspects of flight operations and maintenance activities in one place. "The ability to correlate and consolidate pilot information, flight and maintenance logs, and aircraft status down to the component level within one software solution leaves no margin of error and yields almost real-time data generation", said Thomas Meyer, AlarisPro's Director of Commercialization.
Unlike using spreadsheets, the AlarisPro software integrates all operating and maintenance data into a single source that is simple and easy to use. Using spreadsheets to record and manage data is cumbersome, largely disconnected, and difficult to keep updated and accurate. On the other hand, the single-source integrated solution of AlarisPro makes it easy for organizations to scale operations while ensuring consistency and exceeding documentation requirements. AlarisPro's unified cloud solution documents all necessary operations and maintenance elements to enable operators to meet the exacting Part 135 recordkeeping requirements.
According to AlarisPro CEO, Tony Pucciarella, "AlarisPro captures the core time-proven safety elements from manned aviation and delivers them in a tailored solution for the unmanned industry". UAS operators and owners have unique requirements when compared to traditional manned operations which implies that a unique solution for UAS fleet management is required. Legacy software solutions were designed for a different use case and have not evolved to include evolving customer requirements and new technology. These products are mismatched for UAS applications due to being overcomplicated and designed to be maintained by highly specialized maintenance personnel and commercial pilots with extensive experience in manned aviation. AlarisPro's UAS-focused solution relieves operators from having to settle for a patchworked manned solution that puts the burden of customization on the user.
The future of UAS Part 135 Operations
The FAA is actively working with multiple Part 135 applications. While a few 135 certificates were initially approved through the FAA's IPP program, these certificates are extremely limited because they do not include the use of a Type Certified (TC) aircraft. All Part 135 operations beyond those few first 135 approvals require the use of certified aircraft. Gaining aircraft TC approval requires extensive Durability and Reliability (D&R) data collection which AlarisPro is uniquely positioned to document and report. Stay tuned for more on the TC process in our next blog!
If you are thinking about expanding your operation to include Part 135 operations and want to learn more about how AlarisPro can support your efforts, please reach out to our sales team to learn more.