AlarisPro Serves Critical Role in Historic Unmanned Aircraft Delivery of Organ For Successful Kidney Transplant
APRIL 26, 2019 | PRESS RELEASE

---
Baltimore – April 26, 2019 — AlarisPro supports world's first unmanned aircraft system (UAS) delivery of a viable human organ. In a first-ever advancement in human medicine and aviation technology, a University of Maryland unmanned aircraft has delivered a donor kidney to surgeons in Baltimore for successful transplantation into a patient with kidney failure. This successful demonstration illustrates the potential of unmanned aircraft systems (UAS) for providing organ deliveries that, in many cases, could be faster, safer, and more widely available than traditional transport methods.
The momentous flight was a collaboration between transplant physicians and researchers at the University of Maryland School of Medicine (UMSOM) in Baltimore; aviation and engineering experts at the University of Maryland (UMD); and collaborators at the Living Legacy Foundation of Maryland (The LLF).
The entire project was supported by AlarisPro's detailed reliability and operations data which was highlighted as serving a critical role in the success of the final flight which included the delivery of a kidney that was successfully transplanted hours after the UAS landed. All flight operations and maintenance actions were documented using AlarisPro's detailed Operations and Fleet Management Software. As with any large complex project, issues were encountered. This project however benefited from the detailed issues tracking feature of AlarisPro that helped researchers mitigate risks and improve their design and operational procedures – thereby improving mission success.
"This project required a reliable UAS platform with reliable components to ensure mission success. AlarisPro was key in helping us monitor component, system, and operational reliability throughout the design process, testing, and ultimately the successful mission," said Matthew Scassero, Director of UMD's UAS Test Site, part of the Clark School of Engineering.
Maryland faculty and researchers believe this prototype organ transport blazes a trail for the use of UAS to expand access to donated organs, improving outcomes for more people in need of organ transplants.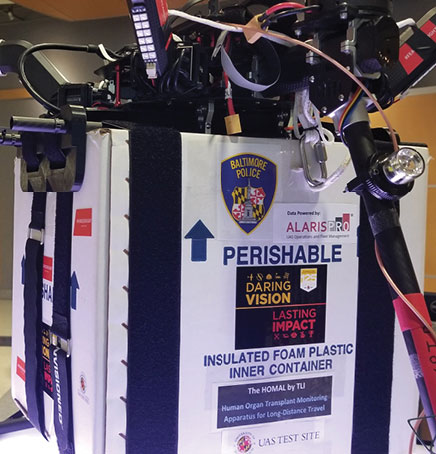 "As a result of the outstanding collaboration among surgeons, engineers, the Federal Aviation Administration (FAA), organ procurement specialists, pilots, nurses, and, ultimately, the patient, we were able to make a pioneering breakthrough in transplantation," said Joseph Scalea, MD, assistant professor of surgery at UMSOM, project lead, and one of the surgeons who performed the transplant at UMMC.
"AlarisPro was developed for exactly these types of missions where risk mitigation is critical," said Anthony Pucciarella, Founder of AlarisPro Inc. "Our team at AlarisPro is committed to bringing the safety culture present in manned aviation into the UAS industry. What better way to illustrate this commitment than with a lifesaving event like this."
The unmanned aircraft and operating systems were designed by UMD UAS Test Site engineers to meet the rigid medical, technical, and regulatory demands of carrying a donor organ for human transplantation.
"This history-making flight not only represents a breakthrough from a technological point of view, but provides an exemplary demonstration of how engineering expertise and ingenuity ultimately serve human needs – in this case, the need to improve the reliability and efficiency of organ delivery to hospitals conducting transplant surgery," said Darryll J. Pines, Ph.D., dean of the A. James Clark School of Engineering and Nariman Farvardin Professor of Aerospace Engineering. "As astonishing as this breakthrough is from a purely engineering point of view, there's a larger purpose at stake. It's ultimately not about the technology; it's about enhancing human life."
DISCLOSURE: Anthony Pucciarella is founder of AlarisPro and serves as the Director of Operations for the UMD UAS Test Site.
About AlarisPro Inc.
AlarisPro is a web-based subscription service providing UAS operations and fleet management services to UAS operators, researchers, and manufacturers. AlarisPro is based on manned-aviation safety and reliability tracking metrics and is designed to improve safety and reliability within the UAS industry. AlarisPro provides detailed reliability data for UAS and their supporting components and subsystems by treating each component (motor, propeller, autopilot, ESC, etc.) as a node of data within a system-of-systems. The resulting data is analyzed using industry-accepted reliability metrics proven in the manned aircraft industry such as Mean Time Between Replacement/Failure (MTBR/MTBF), total fleet time, high-time for UAS/components, and more.
AlarisPro is committed to improving safety in the UAS industry by providing clients access to critical data. AlarisPro's ability to unlock unique DaaS data streams, coupled with analysis techniques and decades of manned-aviation experience, provides clients otherwise-unavailable insights to improve safety and efficiency. AlarisPro clients include UAS Manufacturers, Operators, Universities, and other organizations striving to make their UAS operation as safe as possible by reducing risks. Visit the AlarisPro website.
About the University of Maryland School of Medicine
Now in its third century, the University of Maryland School of Medicine (UMSOM) was chartered in 1807 as the first public medical school in the United States. It continues today as one of the fastest growing, top-tier biomedical research enterprises in the world—with 43 academic departments, centers, institutes, and programs and a faculty of more than 3,000 physicians, scientists, and allied health professionals, including members of the National Academy of Medicine and the National Academy of Sciences and a distinguished recipient of the Albert E. Lasker Award in Medical Research. With an operating budget of more than $1 billion, UMSOM works closely in partnership with the University of Maryland Medical Center and Medical System to provide research-intensive, academic, and clinically-based care for more than 1.2 million patients each year. UMSOM faculty, which ranks as the 8th highest among public medical schools in research productivity, is an innovator in translational medicine, with 600 active patents and 24 start-up companies. The School works locally, nationally, and globally, with research and treatment facilities in 36 countries around the world. Visit: medschool.umaryland.edu.
About the University of Maryland
The University of Maryland, College Park is the state's flagship university and one of the nation's preeminent public research universities. A global leader in research, entrepreneurship and innovation, the university is home to more than 40,000 students, 10,000 faculty and staff, and 280 academic programs. As one of the nation's top producers of Fulbright scholars, its faculty includes two Nobel laureates, three Pulitzer Prize winners and 57 members of the national academies. The institution has a $1.9 billion operating budget and secures $514 million annually in external research funding. For more information about the University of Maryland, College Park, visit umd.edu.
---
Share this entry