AlarisPro Unveils New, Cutting-Edge User Interface for World's Only End-to-End Unmanned Aircraft System (UAS) Management Platform
MAY 05,2020 | PRESS RELEASE

---
BALTIMORE, May 05, 2020 — Baltimore-based AlarisPro, the leader in Unmanned Aircraft System (UAS) management, has released a major update to its suite of software solutions, empowering manufacturers and operators with even more data collection, visualization, and analysis capabilities.
Seamlessly compatible with all UAS hardware, AlarisPro's software is the only platform that combines project management, flight logging, component-level maintenance and reliability data, and performance analysis tools in one centralized dashboard. Using advanced monitoring capabilities and predictive analytics, the system helps reduce maintenance costs, improve efficiency, maximize operational safety, and make it easier to meet and exceed evolving regulatory requirements.
AlarisPro's centralized platform also aggregates data across multiple systems to identify statistically-significant trends in fleet performance. The system then recommends actions that can prevent unnecessary downtime, catastrophic damage to equipment, or risk to human safety.
The user interface (UI) enhancements in the latest release were designed to facilitate customization and optimize users' decision-making capabilities. Updates include:
An increased emphasis on data visualization for immediate, actionable insights
A highly intuitive dashboard to give different users the specific data they need to make decisions effectively
A fully responsive design, maximizing mobility and facilitating offline data entry
A streamlined data entry workflow
New project management functionality to manage assets associated with distinct projects and events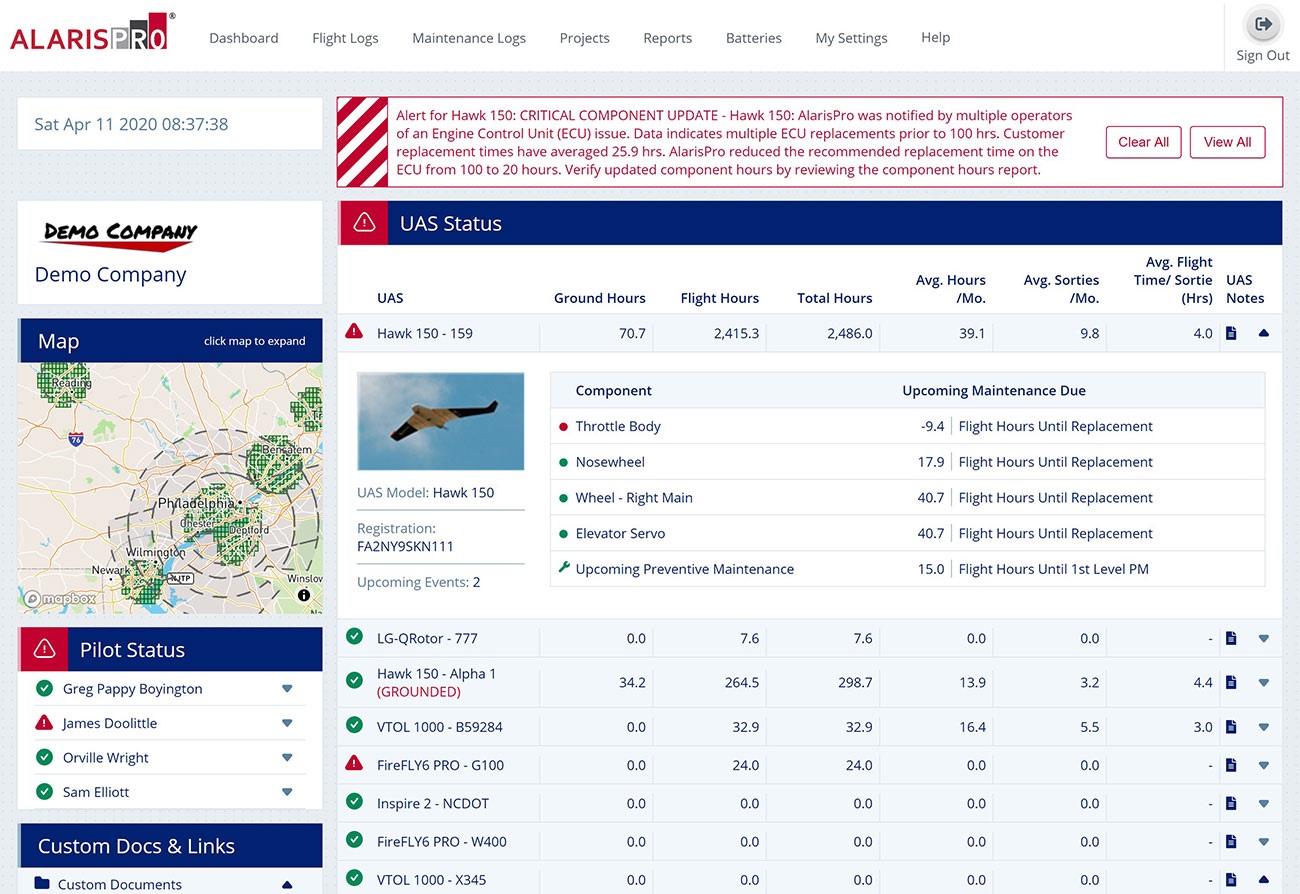 "Since 2014, our team has been laser-focused on building the best UAS monitoring and management platform in the world," said AlarisPro Founder and CEO Anthony Pucciarella. "As both a member of the AlarisPro team and a user of our software, I can confidently confirm that the updated experience makes it even easier to derive actionable insights from UAS data."
"By using our platform to demonstrate their powerful fleet monitoring and risk management capabilities, manufacturers and operators can use our platform to make a strong case for expanding their operations in the future," remarked Don Ferguson, AlarisPro's Lead Developer. "We truly believe that AlarisPro can be a catalyst for growth in the UAS space."
AlarisPro will be exhibiting at Commercial UAV Expo on September 15-17 in Las Vegas, NV (booth #506) and at AUVSI XPONENTIAL on October 5-8 in Dallas, TX (booth #481). To learn more about AlarisPro's revolutionary platform for UAS operations and fleet management, visit AlarisPro.
---
About AlarisPro
Designed by military aviators and civilian UAS experts, the AlarisPro SaaS platform equips UAS operators, maintenance professionals, and manufacturers with the critical safety and reliability data needed to manage and optimize their unmanned systems and subsystems. Headquartered in Baltimore, Maryland, AlarisPro is proud to serve hundreds of UAS manufacturers and operators across the globe. Learn more about AlarisPro.
---
Share this entry